(Because saying "the cake is a lie" has become a little tired.)
This is late, because I actually baked this cake a week ago for a reception on the 23rd. Cake is an evanescent art form, and also participatory. I'd go so far as to call special occasion cakes performative.
It tasted really good, although it fell apart when cut due to several factors. And I should have used more syrup to moisten the layers all the way out to the edges. And I rolled the fondant too thin for the first tier I covered, so it ended up being overly pleated.
But, cake!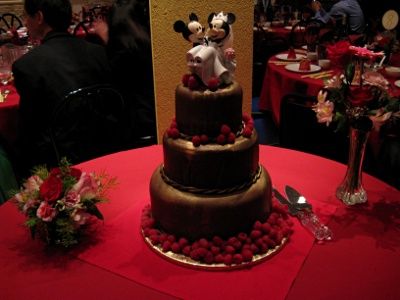 The next big baking I have to do is a teetotaler's rum cake for my father's birthday banquet in December (teetotaler because we can't send people home drunk off cake, mostly), but that's only one layer, even if it's big.
Details of the wedding cake after the jump.
I used the chocolate butter cake for 150 straight out of the Cake Bible, but I ended up doing the math and mixing and baking the 6in layers separately from the 9in layers. Baking them together make them more prone to overbaking and dryness.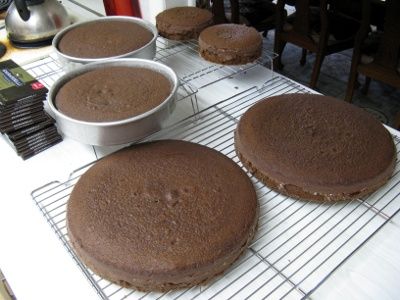 I used 7 batches of ganache from the same cookbook. I essentially made 3 batches at a time and let them cool to room temperature and then whipped them in my stand mixer as I needed them. The problem as well as the joy of ganache is that it sets up firm, even when it's whipped. But to keep it spreadable, it needs to be soft-ish. So I needed to warm up the second batch once in a while. Very low heat for a very short amount of time and then rebeating it worked well enough. A hot water basin would have worked as well.
I purchased 7 half pints of raspberries and I was lucky that very few needed to be discarded. Each tier was filled with a thin layer of ganache on top of which I placed whole raspberries stuffed with more ganache in a close formation. Then I spread more ganache on top to fill in the spaces. This way the berries didn't create hollow spaces. In the test run, I had opened the berries and laid them flat against the cake, but there wasn't enough of that raspberry burst against the tongue. Using whole berries solved that, though, even if it was messy to execute. I used a small spoon, and a piping bag would have been much easier/faster.
I used Choco-pan for the fondant, and used up almost all of the 4lb tub because of the extra detailing with the fondant "rope" around the bases of the tiers (S-twist, for the spinners out there). I would get 5lbs instead, next time as I made the center tier's too thin. It can be rolled very thin for creating a draping look, but that's too thin for enrobing a cake, especially one whose frosting is as firm as a whipped ganache. It shows every irregularity, and it's also too thin to stretch, which means that it needs to pleat to go from 2 dimensional to 3 dimensional.
I rolled the fondant on top of sheets of parchment paper, which is something I'm kicking myself for never having done before. It's so easy to just leave it attached to the parchment paper and then peel off the paper after it's been positioned on the cake. No tearing! No holes to patch! So much less angst if it's rolled thin. Although, when it's rolled thick, I actually took it off the paper and draped it over my hands so it would warm up and start stretching into that tented shape more necessary for a cake. But the parchment was still good because it's easier to pull it up from the paper than to pull it up from the table surface. A minimum of vegetable shortening for the pin is all I needed to reduce sticking, and no powdered sugar at all.
I had also purchased 2 pounds of Satin Ice with the intention of mixing the two, but the colors were
so
different, and the Choco-pan tastes so much better than the Satin Ice, that I stuck with the one.
I spilled the gold dust, and gave myself "gold lung" for a day from inhaling it. Instead of a delicate sort of whisper of gold over this cake like I'd intended, it's much more of a bold statement. But the pile of raspberries over all helped stand up to it and I think it looked all right in the end.
As well as the raspberry sauce I made to glaze the tops of all the layers, I made 3 cups of brandy syrup to moisten the cake and only used about half of it. I should have used more, though, and been more careful about getting the edges of the cake. I also reinforced all three tiers with straws because of the cake topper. Normally the top of the cake doesn't need any real structural reinforcing, but this topper was very large and ceramic so I wanted to make sure it wouldn't have any problems.
The combination of cake and ganache led to crumbling. Since ganache is stiffer than butter cream, it didn't glue the cake together at all. On the other hand, one of my cousins is incredibly good at cutting cake and once he took over it went more smoothly. But it tasted very good and the whipped ganache was soft enough and melt-in-your-mouth at room temperature, so it still went over well.
The cake was sitting on 2 cake drums. A 12in drum the same size as the bottom tier, and then off center on a 16in cake drum. No need for a cake stand and this left plenty of room for the spill of raspberries. I transported the cake in a big cardboard box without the berries, and they and the topper were placed at the restaurant.