Remember, tomorrow is the last day to enter the most recent giveaway in
this post
.
I've been very busy and not very productive. We have family visiting which makes it difficult to get things done, and the weather has decided to get ridiculously hot and humid again. I had to bring in all the yarn I dyed over the weekend and crank up the dehumidifier. This means that my workroom is unbearably hot, but at least my yarn is all dry. Once the room cools down, I have to label all the yarn so I can photograph it.
One thing that was dry enough to photograph, however, is the sample I received from the mill. It's a beautiful merino/superfine mohair blend in a DK weight. It's all domestically produced fiber, and it's not a superwash.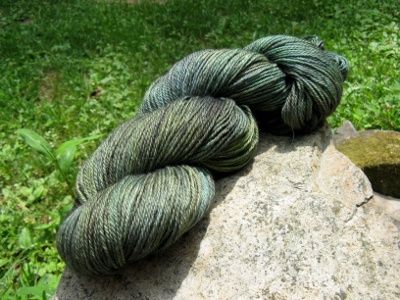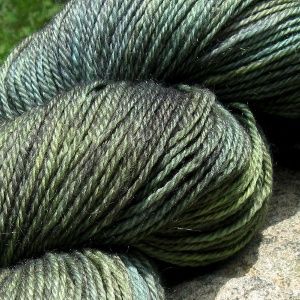 100g/300yds of DK weight merino/mohair in the Poseidon colorway. The reduced saturation of a non-superwash really shows how the Poseidon colorway is a darker version of the Cleito colorway.
I love how it responded to my usual technique, and I'm really happy that there was no felting or matting. I'm not actually in the market for a DK weight for the shop, but this blend is also available in a laceweight. I'm definitely considering the laceweight for the shop. I know the mohair will put off some people, but personally I prefer mohair to alpaca and I love how this blend takes dye. I'm keeping this skein for
meeeee
.
But before I can think of adding new things to the shop, I have to take care of the current stock. Which means it's back to the Gimp mines for me. I have to list my August Phatfiber colorways and stitch markers and clear the path for the next big update.