Summer is coming to a close here and the weather has turned cool and drippy. We'll no doubt get another blast of heat to remind us that it's not done with us quite yet but it's almost time for apple picking and pumpkin pie again.
This picture isn't indicative of the weather at
all
. I took it earlier this summer, when I wanted to melt. But ice cream is always appropriate. So here's another ice cream giveaway.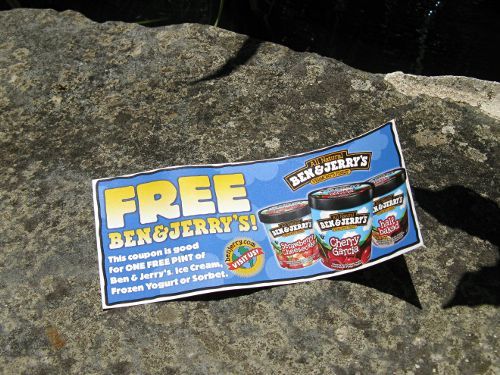 This time I'd like people to talk about what fibery, crafty goodness they're starting up. It's not the end of summer everywhere, but a change of seasons is creeping ever closer and that tends to shake things up a bit.
Just comment here any time through Sunday, August 29th, and you'll be entered in the random drawing. Please leave a way to get back in touch with you, or check back here on Monday, August 30th to see if you've won. On September 1st, I'll have another fun giveaway with some lovely items from
LylianMae Fiber Artistry
.
Once again, this coupon expires in 2011 and is only good in the US.But don't let that stop you if you're outside the US. If you win, I'll send a little surprise instead.
And as another reminder, my Help Pakistan fundraiser box auction is
here
. The value of the contents of the boxes go up as the bids increase, and at this point the boxes will be
fantastic
Meanwhile, back at the ranch I'm very busy indeed. I have a festival in less than 3 weeks and it's gotten to the "eep!" point where I need to get too many things done at the same time. Once I finish a bunch of really important tasks this week, I'm going to go into a solid week of dyeing yarn just for the festival. Then the last week before will be full of labeling and inventory, and bajillions of little tasks that always fall by the wayside until the last moment. Fingers crossed I do well there this year. I'm by myself this time, so it's a lot of space to fill with little ol' me!
And somewhere in all of this, I need to prepare and ship out my Phatfiber samples. I
will
get another update in the shop done this week however, hell or high water. I want to give everyone a good chance at the skeins of Arctic Hare I have dyed up already, before I take everything to the festival.