For this month's giveaway I have a skein of the colorway I dyed up for the August Phatfiber box theme of Africa.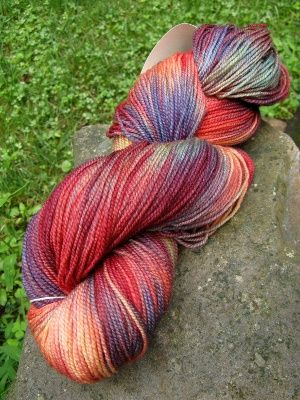 Jackrabbit 4oz, colorway Red Desert.
This is a 4oz skein in the Jackrabbit base, a 2ply superwash merino in a fingering weight. 400yds, this is plenty for a pair of socks or a small lace project. I love this yarn; it's incredibly springy and has a lovely sheen. In this colorway, it's like a sunset over stones and sand.
My sister's family is visiting from the other side of the country, and I asked my niece for what folks should do to sign up for this giveaway. So, to sign up comment here with your favorite Looney Tunes character (or any animated character, really) any time through Thursday, August 5th to enter this random drawing.
This actually does have an obscure tie-in to my shop. My favorite animated character right now is Prince Zuko from
Avatar: The Last Airbender
. However, my shop name is a reference to the Bugs Bunny cartoon where Bugs falls for a mechanized rabbit on a greyhound racetrack. My usual username around the internet is "djinnj" which is very close to "djinn" which is where we get "genie" which works with "Jeanie, the light brown hare" variation of the song Bugs sings, which is a punning reference to the song
Jeanie with the light brown hair
.... Well, I said it was obscure!
So, pull up some pixels and let's talk about cartoons! :D And don't forget to leave a way to reach you or come back on Friday to see who won. Thanks!
Meanwhile,
I'm giving away fiber on my Ravelry group
.