I'm working on lots of things to gear up for the festival next month, and this one keeps cracking me up so I
have
to share. But before I get into that I just want to remind everyone that I have
two yarny fibery swap boxes
up for auction at the Help Pakistan LiveJournal community.
Now, on to the thing that's been amusing me for days. See, I like to hand out free patterns when I do a craft show. Ideally they're made out of my own yarn and I can display the finished product around the booth. It draws interest and is a great ice breaker.
So I wanted something new this year. This time I decided to make a sheep mug cozy based on a discussion in the Ravelry forums. I had intended to do something rather different at the start but the idea grew and evolved and... well, this is what happened: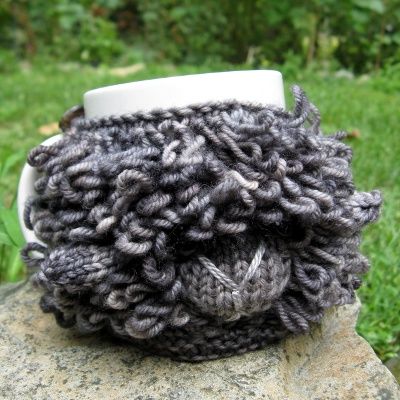 One sheep mug cozy on a standard mug, before blocking.
I found loop stitch and it was easier to do than trinity stitch and much,
much
funnier. I even made a video tutorial of it:
I have to clean up the pattern and knit it again and modify a few things to make it easier and more consistent, but I'm really happy with it. And one skein of my worsted weight yarn should be more than enough for 2. Which is good because I only have one skein of it to spare!
Once the festival is over, I'll get around to uploading a pdf to my free Ravelry downloads and adding a link here. But if anyone would like the pattern before then, I could really use some test knitting.
Here's a clearer picture of the face in a rather overexposed picture. One of the ears is a little too low, but I think it adds character.
Oh yeah, and I reached my 500th Etsy sale yesterday. I didn't have a celebration or anything, but I did bounce around the house a few times. :D