First off, don't forget the giveaway happening in
this post
, taking comments through Thursday.
Now, on to cake!
We have family visiting and one of my nieces asked for cake. Since we're in the middle of a slightly cooler patch of weather, I decided to go for it. The request was chocolate cake with vanilla frosting and raspberry jam filling.
I decided to go with a simple chocolate cake using oil instead of butter, vanilla cream cheese frosting, and tart raspberry sauce to go in the filling. The cream cheese frosting is one I devised when I made my cousin's Red Velvet wedding cake (it wasn't hard, it's just a basic frosting). The raspberry sauce comes from Rose Levy Beranbaum's
Cake Bible
.
The cake is chocolaty and very moist. I prefer the flavor and texture of butter cakes and this is definitely not a butter cake, but it's plenty good enough to satisfy a craving. Other than the softness, the frosting and filling were tasty as well. As long as I keep the cake chilled when we're not serving portions, it should be fine. Otherwise, I'd do a standard buttercream for warm weather (the kind with egg yolks and soft ball stage syrup, not powdered sugar). But a buttercream was more work than I was willing to do today.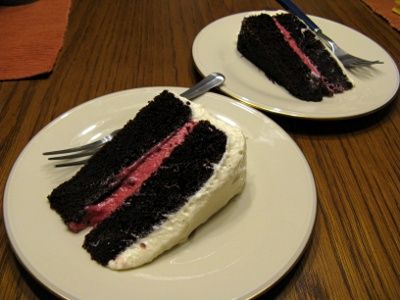 Recipe after the jump!
For the cake portion I used a new-to-me recipe I found on Epicurious
here
. Of course, I had to change a few things.
Chocolate cake:
2c unbleached all-purpose flour (280g, I used 210g flour and 70g cornstarch to approximate cake flour)
1.75c sugar (350g)
2tsp baking soda
1/4tsp salt
0.75c cocoa powder (80g, I used Ghirardelli brand)
1c hot water
0.75c buttermilk (I used 0.5c plain yogurt and 0.25c milk, the acidity is necessary since this recipe uses baking soda instead of baking powder)
0.75c vegetable oil
3 large eggs
Preheat the oven to 350°F. Grease two 9in cake pans, line the bottoms with parchment paper, and then grease the paper again.
Mix the cocoa powder with the hot water until it's lump free and set it aside to cool.
Mix together the flour, sugar, baking soda and salt. I use a whisk to lighten the mixture and blend it well.
Beat the eggs and mix them with the buttermilk (or substitution), oil, and cocoa mixture. Stir together until well combined.
Pour the wet ingredients into the dry ingredients and mix until well blended. About 30-40sec with a mixer.
Pour the batter into the cake pans and bake until a toothpick comes out clean, about 30min. Cool in the pan on racks until completely cool. These cakes like to dome, which is a problem if making a layer cake. If the layers dome, gently press down on the surface to compress the layers somewhat flat. Do this while the cakes are still hot, and use a clean flour sacking towel or a cloth napkin to press down. Make sure to use an oven mitt if using a cloth napkin as the layers are hot!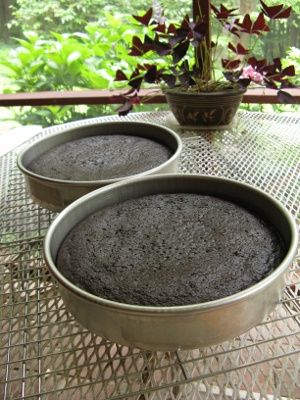 Cake layers cooling after having been pressed level.
Raspberry sauce:
half a batch, from the
Cake Bible
by Rose Levy Beranbaum
1 12oz bag of frozen raspberries, defrosted
1tsp lemon juice
1/3c sugar
Press the juice out of the berries for about half a cup. Simmer this juice until it's reduced by half.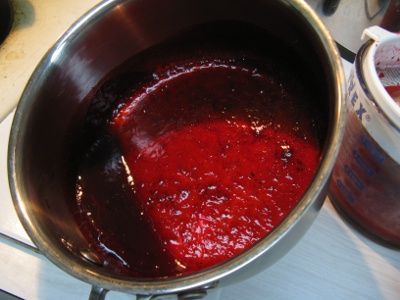 The reduced raspberry juice turns into a "molasses".
Meanwhile, mash the raspberries and strain the pips out of the remaining juice and pulp. Stir this seedless raspberry juice and pulp and the lemon juice into the reduced "molasses". Measure and add half the volume of the mixture in sugar. So, if it's half a cup of raspberry puree, add a quarter cup of sugar. Stir to dissolve. This time it came to about 1.3c total once the sugar was added. Keep any excess refrigerated for up to a week or freeze indefinitely. This sauce is divine over cheesecake.
*Unrelated secondary recipe*
Raspberry Lemonade syrup
- I make this when I make the raspberry sauce and have lots of lemons around. It's just a simple syrup based on lemon juice and flavored with the raspberry pips. Using the same strainer and saucepan, it saves every last bit of raspberry goodness. Makes about 1.5c. It's also delicious made with just lemons, but in that case the lemonade isn't pink.
1c of lemon juice, about 4 large lemons
1c sugar (200g)
several strips of lemon zest removed from the lemons with a vegetable peeler
strained raspberry pips from making raspberry sauce
water
Mix the raspberry pips and lemon juice together and let it sit for a few minutes. Then strain the pips out and measure the juice. It should be 1 cup, if it's a little short top it off with water. Put the juice into the saucepan with the lemon zest and sugar and bring to a simmer. Stir and cook until the sugar has dissolved.
This syrup is excellent in seltzer, over shaved ice, or as a mixer.
Cream cheese frosting:
makes about 3.5c
1c. cream cheese, room temp.
1c. sugar
1c. butter, room temp.
1tsp vanilla
Whip the cream cheese, sugar and vanilla together until lighter and the sugar is dissolved (it'll be ropey and smooth, not fluffy).
Beat in the butter bit by bit until smooth, fluffy and light. Due to the warm weather and using Neufchatel cheese which is lower in butterfat, this frosting came out softer than usual. To reach a good consistency once I whipped in all the butter I chilled the entire thing, mixing bowl, whip attachment, etc, for 10min and then whipped it again. I did this several times until it had the volume I liked. Clearly this frosting is on the soft side and does not hold its shape well in hot temperatures. Refrigeration is recommended with this one because of the cream cheese.
To finish the cake:
I removed one of the cooled layers from the pan, peeled off the parchment paper and centered it on the serving plate. Then I spread a thin layer of raspberry sauce on the top of it.
I mixed 1/4c of the raspberry sauce with 3/4c of the cream cheese frosting for a soft filling. It was a little too soft, so I sprinkled 1tsp of gelatin over 1tbsp of water and then microwaved it until it was melted. I poured it into another bowl to cool it down and then beat it into the filling and did the cycle of chilling and beating three times again (it's actually about half the gelatine because I always lose some in boiling over and in it sticking to the bowl). If I were to do this again, I would add the gelatin to the raspberry mixture before mixing it in with the frosting.
I filled the layer and chilled it for 10min and then set the second layer on top of it. Crumb coated and frosted with the remaining cream cheese frosting.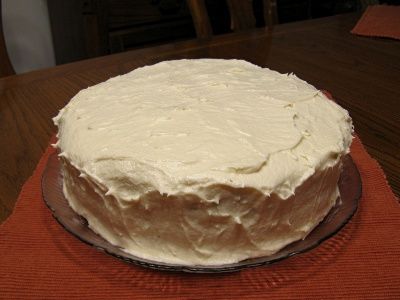 The finished cake was slightly cosmetically challenged but very tasty. When people ask for seconds, it's got to be a success!