How could I have missed this today, when I'd specifically been told about it?
Knitcircus blogged a review of my yarn
!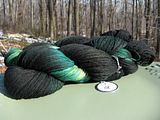 Taiga, the colorway that was reviewed
I'm really pleased Jaala enjoyed working with it. If I were more on the ball, I'd have more Taiga up in the shop, instead of sitting waiting to be photographed.
Back to the Gimp mines!