A tale of two boxes!
After waiting in much anticipation, I received my Phatfiber Unbirthday Swap package today, and it was well worth the wait! It's a fantastic selection of delightful things and I cracked up repeatedly when I opened it. It's not just what I wanted, it's also charming and full of character. Oh, what am I saying, I should just show off the haul: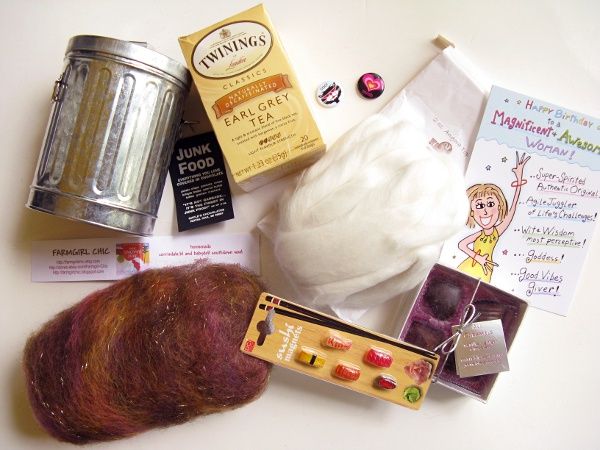 click for even bigger
The first thing that met my eyes was the little trash can, and I had to laugh. It's got a little black "trash" bag in it that's filled to the brim with
all sorts of crispy crunchy snack foods liberally covered in chocolate
. It's
brilliant
and I love the tin. I can just imagine using it to store things, perhaps yarn scraps, once I'm done with the candy. I've been on a chocolate kick lately, so I imagine it will be emptied faster than usual for me.
There's also Earl Grey tea, Twinings (my favorite), but most importantly
decaf
which is something I've wished I had for a while now. I always end up at a loss for what to drink when I'm chilled and it's the middle of the night, and then I wander into the kitchen and poke around pathetically until I make do with something. Now I don't have to! :D
In the fiber category, there's a big beautiful batt from
Farmgirl Chic
in "the Snowy Day" colorway (corriedale/bl and babydoll southdown/mohair/angelina); and two luscious ounces of angora top from
WC Mercantile
. I will be dyeing up that top soon, oh yes I will. *rubs hands in anticipation* I've been wanting to try my hand at angora for a while because it seems silly to have a shop with a hare theme and not have a single product derivative of lagomorphs anywhere.
And then there was more! The sushi magnets are fantastic and I laughed and laughed. My favorite ikura hand roll is represented! :D Those are already on the fridge. And there were some cute pins, a fun card, and a box of chocolate covered caramels that probably won't last the night.
A fabulous package and huge thanks to nephnie. :D
Then in the middle of all this box madness I had to go to the airport to pick up my folks, so I had to put all the gushing on hold for
hours
. I did finally finish coding the links for the box, though. And so, I present my Phatfiber contributor box for this month. The theme is All Creatures Great and Small.
The links are listed in no particular order (click for much bigger):
A chocolate lollipop (chick in an egg), and some cute paperclips holding together the packet of cards. A glossy short stack of Phatfiber box promo cards which I'll be sending out in my parcels.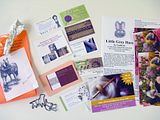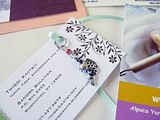 Cards/coupons from
Wooliebullie
;
Natchwoolie
;
Kira K Designs
;
Knit It Up
;
SpinOlution
;
The Critter Ranch
;
Silver Sun Alpacas
.
Twiggi Knits
- a fish stitch marker.
Garilynn
- Little Grey Hare pattern
My Fair Bag Lady
- Spot o'tea cozy pattern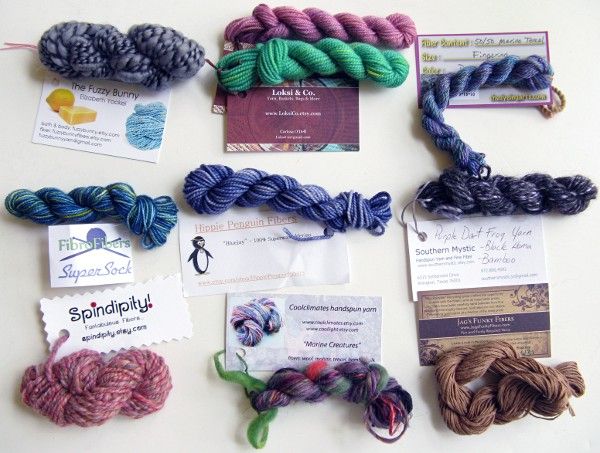 Hippie Penguin Fibers
- superwash merino "bluejay"
Loksi & Co
- superwash merino in "turtle" and superwash blue faced leicester in "butterfly"
Fibro Fibers
- superwash merino supersock in "parrot"
The Dyeing Arts
- merino/tencel in "peacock"
Jag's Funky Fibers
- recycled cotton
Spindipity
- merino handspun
Southern Mystic
- black llama/bamboo handspun in "purple dart frog"
Coolclimates
- wool/mohair/tencel/bamboo/silk handspun in "marine creatures"
The Fuzzy Bunny
- wool handspun in "ants & elephants"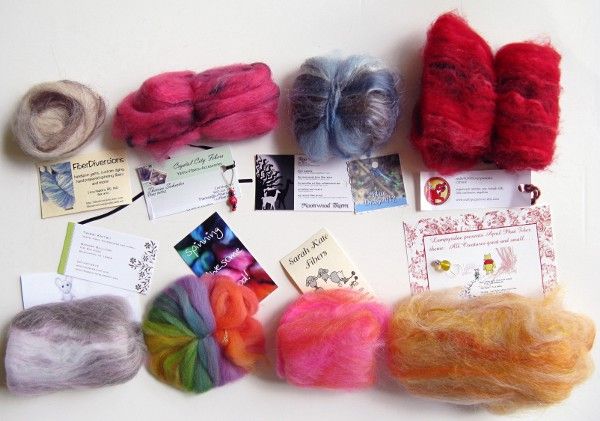 Fiber Diversions
- alpaca in "spring peepers"
Twiggi Knits
- suffolk/merino/fake cashmere in "little gray mouse"
Spinning Awesome Good
- merino in "tiny zinnias"
Moonwood Farm
- alpaca/mulberry silk/bamboo/milk/sparkle in "blue dragonfly"
Sarah Kate Fibers
- wool/mohair/firestar in "phlamingo"
Crystal City Fibers
- merino/bamboo/silk noil in "lady bug tweed", and a lady bug stitch marker
Crafty Puppy Lover
- superwash merino/soy/tussah silk/fake cashmere/angelina in "Clifford"
Lampyridae
- Wensleydale/bamboo/silk/angelina in "honeycomb", and a yellow glass stitch marker
For people who don't know what the Phatfiber Box is, it's a sampler of yarn and/or spinning fiber, and other stuff, from indie fiber folk like me. We send our samples in to Jessie who runs Phatfiber, and she packages them up and sells them via
the Phatfiber etsy shop
one day a month. There's more to it, especially the extremely lively
Ravelry group
, but that's the bare bones of it. It gives people the opportunity to get the feel for what we sell before they risk buying anything full sized. But it's also turned into a more enthusiastic sort of promotional area, where there's a happy, active group
eager
to be enticed.
The scarcity factor of the boxes adds to the monthly excitement. There are only about 200 sold one day a month. The boxes sell out
fast
. So fast that I called it the "running of the boxes" this month, and Rana was kind enough to sketch it up for me:

Needless to say, this image was a big hit with the group. :D