I really have to get better at working on my Phatfiber samples in a timely fashion. It always becomes one of those races to the finish where I have not enough sleep and too much caffeine. This is even
with
my mother's considerable help in assembling the things.
One would think that having them done a week in advance is more than early enough, but I know to my sorrow that the USPS's "2-3 days" is just a best case scenario. So, today was the absolute
latest
to get April's samples into the mail so they have a reasonable certainty of arriving in time for the video.
This is perhaps why it's laughable that I hope to get
two
months done next time. I'm really hoping to switch over to sending two sets of samples every other month. It saves on shipping and the craziness is half as often. ... Well, we'll see.
The theme for April is All Creatures Great and Small, so I sent 12 Widget stitch markers with my yarn samples. The yarn sample colorway is Tigers, which I have dyed up in the 6oz and the 4oz sizes. I sent some samples in each and labeled as such because the dye interval is different between the two due to the skein size.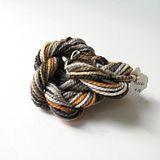 A 5g sample of Jackrabbit in the Tigers colorway, from a 4oz skein.
Then, because I had time, I pulled together my Phatfiber Unbirthday Swap package. To anyone who might be following along from the PF Rav group, this post will totally give away who
isn't
getting my box, but since not that many people read this blog, I figure it's safe enough.
Now that it's safely on its way, I do have some thoughts about this swap
as
a swap. For anyone not interested, there's a picture further down of the actual contents.
It's mostly been fun, but I've had a couple moments that gave me pause. I know a lot of people have been going all out in assembling their swap packages, and that's fine. There was no maximum set, just a minimum and the assurance that going over is OK. I do wish that people would remember that not all of us have the ability to exceed the dollar figure stated, though. It's great that they can do so, but it can make people feel really self conscious, inadequate even, when people go on and on about buying this and that and the other thing. I've been the recipient of an egregiously generous stash exchange and while on the one hand it was a delightful windfall, on the other hand it totally made me feel guilty and like I let down the group for not having been similarly way over the minimum.
I'm happy with the box I'm sending, and the
retail
value exceeds the minimum, but not everyone has the resources to stash dive and/or craft things their recipient might like. And just because I'm a box contributor doesn't mean I can fill the box with impunity, because everything I put in there that comes from my shop
comes from my shop
and no longer has earning potential. I would love to do it, but I can't. And sadly my recipient doesn't have a use for what I do have in excess.
I love how chatty and "into" this whole game people are, but at the same time, a little mindfulness might be good. And I wish more people would talk about what they're making, because I know a lot of people are crafting things.
Wow, that was a whole lot more cranky than I anticipated. I really have enjoyed most of this process. I'm just disturbed by the vague "go big or go home" vibe I occasionally get, like it's a contest. Anyway, my hope is my recipient will love everything I sent, but I know that's a gamble since I didn't have a lot of information going into this. So I will be pleased as long as my recipient understands I did my best, and feels appreciated and spoiled in the
thought
. (ETA: as more and more packages are displayed in the group, it looks like most people haven't been going as all out as it sounds. Which is reassuring and has made the whole thing entirely fun again. AND my recipient posted that she got the box and the fascinator was a hit! So I'm happy. :D)
With regards to the actual contents of the package, I waffled on the yarn selection for
days
. I had originally planned to go with the darker color, which is the new colorway I'd dyed up for the purpose. I call it Poseidon, and it's a variation on the Cleito colorway. But I still haven't got a clear idea of what my swap recipient likes, so when Sand and Sky came out of the dye pot, I realized I had another contender. I talked about it over in the PF Rav group, where most people liked the darker one better (and I don't blame them, the picture was
terrible
, and hey, I prefer it too and I get to see them in person). So I was all set to include the darker one, but I continued to stalk my recipient in hopes of finding
anything
to tell me if darker or brighter would be better. Because really, they're extremely different colorways and the kind where it's easy to be all one or all the other. Some checking out her etsy purchases etc, however, suggested to me that she likes bright. So I went with Sand and Sky.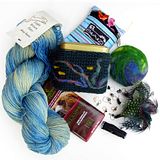 The final contents of the box
I'm pleased with it. I made most of it but I think this is not a bad thing. The only things bought new were the chocolate bar and a pound of tea to make the spiced tea mix.
The soap is from the Body Shop, but I had it in a cupboard for a long time. The roving that's felted over it, and was used to needle felt embellish the mug cozy, is Corriedale that I dyed. The tea is a spiced mix of my own concoction, with an adjustable mug cozy on the recycled Twinings tin. I made a fabric and bead barrette to go with the fascinator, and beaded the pin to match so it can be worn in the hair without anything extra. That way there's no need to go searching for a ribbon, etc, unless it's wanted. There's a slew of stitch markers, both standard ones and my Widget design, to round it out with some bling.
The little change purse filled with candy is the only thing other than the candy that I didn't make in some way, but it's still hand made. I thought it was a good place to stash the stitch markers for safe travel. I chopped the top off a yarn cone and used that to protect the fascinator, and everything else is pretty sturdy. It all fit perfectly into a recycled Phatfiber sample box, and it went out Priority today. Hopefully it and the samples will get to their respective destinations this week.
Now I've got to clean up the disaster area that is my office area, and try and keep cool in the unseasonable heat. Still a productive day, I think.