I think excessive heat does something to my ability to think in straight lines, and to focus. We're thankfully out of the absurd heat wave that made me put ice on my computer just to be able to type, but in that few days instead of doing lots of things I
should
have, I knit mail.
OK, I didn't knit a lot of mail, and it's not like I completely flaked off. But still, how does one explain this?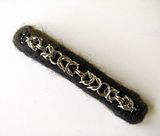 Especially when I have so much else to do?
That's a 3.25in barrette. I needle felted the base out of some Corriedale, glued and sewed it to the bare barrette, and then sewed on the chain. I learned how to do Byzantine Chain from
this person's video
.
Now it's time to go back to the Gimp mines and make more ads and actually edit some pictures so I can list more yarn. I need to get all of the yarn dyed in March listed so I can start listing April.