No, not the stylized movie with lots of oiled pectoral muscles and digital grading. 300th sale. It's an arbitrary milestone but a milestone nonetheless, to count the number of items I sell and think of each century as a significant achievement.
This was 300.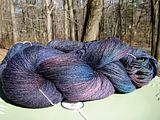 I'm pleased with 300. It's Purple Peacock and I listed it and 12 other skeins last night.
Now, on to listing more yarn. I can't get to 400 without listing stuff, after all. I'm almost done listing everything I dyed up in March. I just have 4 colorways left. Tonight should finish that batch. It's in time for the Phatfiber video, which is always good. Then, a break to work on other critical things (taxes, yipe!), and then I'll get April done and listed.
And then it'll be time to dye more yarn for April, and then on to May. Where does the time go?