It's been another year! This is the second anniversary of my little shop and I've decided to mark this one by giving up some "secrets". OK, they weren't all that secret, but it sounds more interesting if I say they were.
The colorway that won the poll was Nebula, but since I had several pots going, I also included the runners up Red Desert and Purple Peacock. This is how the finished colorways look: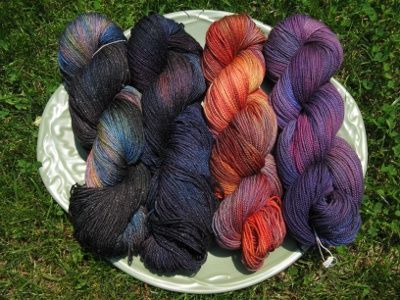 From left to right: Nebula, Purple Peacock, Red Desert, and a new colorway as yet unnamed that shows up at the end of the video. These are actual skeins dyed up in the video
I taped several hours of dyeing on Saturday and then clipped it down to a scant 30min. I hope it's interesting; I tried to be succinct but that's never been my strong point! *
nibbles fingernails nervously
*
And, since this is the first of the month I have a giveaway! I am giving away a skein of the Nebula that I dyed up in the video. I have two skeins that are on the cusp of underweight, hovering right at 100g. So I'm offering one up here and one up in my Ravelry group. Yes, one of these could be yours!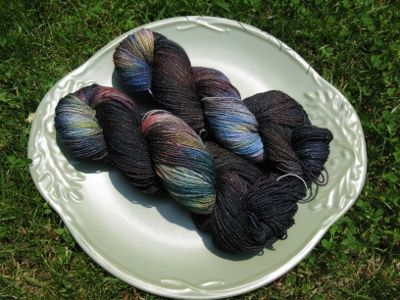 It's the Arctic Hare base, which is a sock/fingering weight yarn with superwash merino/nylon/silk/and real silver for that added glitz. It's very soft and perfect for much more than socks.
To enter this giveaway, just comment here. If you link to this giveaway in any other social networking venues (blog, twitter, FB, etc) mention it in your comment and each will count as another entry. I'll leave this one open through June 7th and select a random winner on June 8th. And yes, as always you can double dip with the
Ravelry group
to increase your chances as well. Just be sure to check back on June 8th or leave me some way to reach you if you win, Ravelry or twitter username is sufficient.
I'd love to hear what you think about the video and the colorways. These aren't in the shop yet because it's disgustingly, unseasonably hot out, but I hope to take pictures and get them listed before the week is out. I have a bunch of new colorways to go up as well and there's still a bit of a backlog from the winter, so there's plenty to keep my busy.
Keep cool and thanks for a great second year! I have high hopes for Year Three!