First up, January's giveaway of a pair of earrings from
Written Insight
goes to
AbsolutGillian
! I'll contact via Ravelry. :)
Second up, a repick for
December's giveaway
is
Ilina
! I'll contact via Ravelry as well.
Meanwhile back at the ranch, I'm making a lot of stitch markers lately. The January Phatfiber theme is Chinese New Year, and I was able to squeak in this month's samples under the wire. I received the beads I wanted to use yesterday and shipped out the samples today. I was focused on finishing so I didn't take a picture, but I have the pieces I'll be making for the shop in progress.
6mm widget removable stitch markers in progress, jade and red brass.
I'm actually pretty pleased with this picture. I tweaked the contrast but not the color or white balance, and I think it's pretty good. Of course, that's partially because I started with this: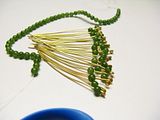 I'm still putzing around with trying to take more color accurate pictures and it seems to help to put something pure medium blue into the frame. I suspect the camera registers the blue and no longer feels compelled to compensate so hard in that direction.
That leads me to put my scissors in everything, so if you see them hanging out at the edge of a shot that's why. To whit....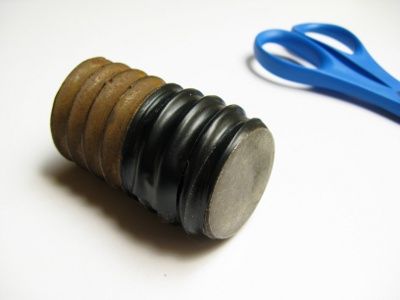 This my anvil for when I make the widget stitch markers. My father is a retired civil engineer and this is a piece he picked up on a job site. It's a small discarded section of a long threaded steel rod that was cut with a diamond saw. They're used to draw together items under tension. It's 1.5in in diameter, weighs a hair over a pound, and is the perfect size for my purposes. I've used electrical tape to wrap the sides so the rough sides don't damage my beads, but the top where it was cut with a saw is very smooth. The scissor serves double duty in this shot, adjusting the color as well as providing a sense of scale.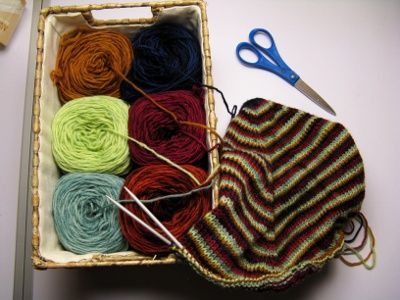 And here it is with my knitting which I put on pause for the stitch marker frenzy. Six balls of yarn were a bit annoying to move around whenever I had to clear my work surface, so I stuffed everything in the basket. This is one of those times I particularly appreciate center pull balls that can sit neatly stationary while still feeding out the yarn.
OK, hammer back to the anvil time, I need to finish my markers for the shop!