It was a very busy December with my father's 80th birthday banquet on the 19th and family coming home for the holidays, as well as other assorted goings on. One cousin's family has expanded with a bouncing baby boy, and another's is expecting any day now. It's been full of moment and now that I can pause to breathe and blog, I'd like to post about the lunar eclipse on the solstice since I took a
lot
of pictures that make me ridiculously gleeful.
I'll talk about the giveaway first, though. One thing is that
December's mystery box
remains unclaimed (and no, it's not exactly the same as the Rav group box). Soooo, I'm going to do this. I'd like to send it to
cols journey
who won it, but if I don't hear back by the end of January's giveaway, I'll do another random pick from the existing entries for December and announce it at the same time as January. I think that's equitable. Meanwhile, January!
This month I have a pair of earrings from a friend of mine who has a thoughtful and literate Etsy shop called
Written Insight
(closed for the holiday, it'll reopen tomorrow).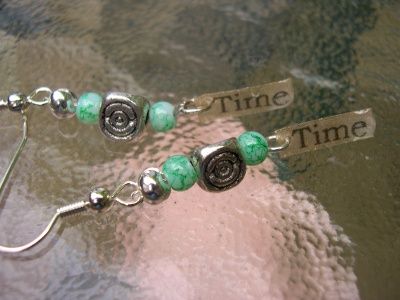 These earrings are about 2in long and they're made of text on newsprint that's been carefully dipped in resin, as well as green and white marbled glass, wood, and silver beads. The hooks are silver plated brass.
For this giveaway, I'd like to talk books. Specifically
favorite
books. I have a lot of favorites since I was one of those kids who would read under the blankets with a flashlight. But if asked, the one I always go back to is Jane Austen's
Persuasion
. It's got the right blend of funny and heartfelt for my tastes, and I like how Anne isn't remarkable or perfect, but she's mature, intelligent, and good (almost too good for her, Austen said). Her Frederick has the whiff of a storybook romantic hero, but when you get to the real him he's just a man who's a little foolish but ultimately well meaning to go along with the "handsome, capable, and rich".
So, what's tops on your list and why? Comment by Thursday, the 6th to be entered in this drawing, and as always leave some way for me to get in touch with you. I'll pick a random winner on Friday, January 7th. And I do hope everyone will visit
Written Insight
and take a look around. It's perfect for logophiles and bibliophiles, and nature lovers, too. The Rav group has a different pair of earrings, and as usual entering both giveaways is fine.
*** Eclipse! ***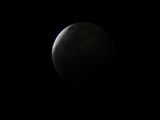 The
2010 complete lunar eclipse
was entirely worth staying up for, even if I didn't see a single falling star. We lucked out and had a gorgeous, clear night for it although it was
very
cold. I found my half-fingered gloves in the pockets of my parka so only my toes froze. I had to pop inside and take off my shoes to warm them up periodically.
More after the jump....
The times below may be off by a minute or so; my camera clock was a little off but I forgot to take note of exactly how wrong it was when I fixed it. These are all EST. Square frames are the ones taken through the telescope and are consequently mirror images. Rectangular frames were taken directly, with my camera on its maximum zoom. I'm actually kind of impressed with how it managed on those despite not using anything for stabilization. It's a good little camera when all is said and done.
1:25am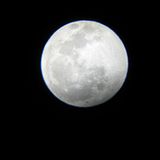 : : : 1:36am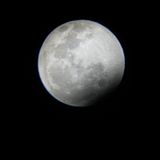 It was definitely a special occurrence. Complete lunar eclipses aren't that rare but this one was on the solstice for the first time in a very long time, visible from all of North America (weather permitting), coinciding with the Ursids meteor shower (one of my nieces saw one, but I missed it since I was mostly glued to the telescope). I was joined outside for most of the eclipse by my father, who was trying to document it with a direct photograph every 10min, but his camera couldn't handle the contrast and the deep zoom needed. My pictures aren't quite so regular in interval!
1:47am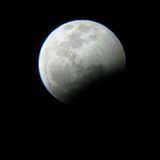 : : : 1:48am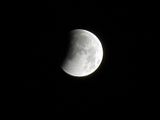 I took these with my little point and shoot Canon PowerShot A720 IS through our Celestron 114mm Newtonian telescope with the H20mm eye piece. It's mostly luck when I have the camera positioned just right that it can take a picture that isn't unrecognizably blurry since I don't have a frame to fix the camera to the eye piece. It's a good thing the moon is so bright a celestial object.
2:00am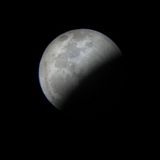 : : : 2:02am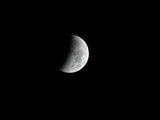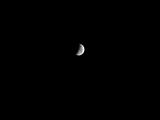 Despite the lack of sharp focus and such, I'm still really pleased with the pictures I got. It was
very
cold and one of the screws was loose on the telescope; we were unable to use one of the fine adjustments so it was impossible to lock it properly in place. Given that the moon moves, it made keeping it in the sight a little bit more involved than usual.
2:16am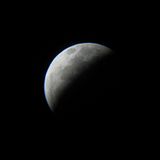 : : : 2:23am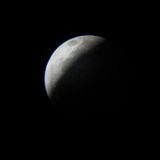 : : : 2:28am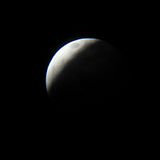 My sister's family was visiting, and my brother-in-law and the girls got up close to the point of the total eclipse to take a look. I think having a good near space telescope really does make a difference for this sort of thing, but they enjoyed it even when not looking through the scope.
2:34am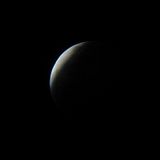 : : : 2:37am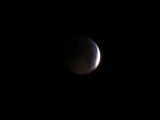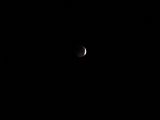 2:37am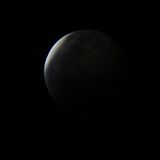 : : : 2:38am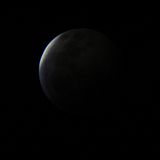 I think an eclipse is more interesting to watch as it happens than to see it at any one moment. It's really a process. After all, the moon disappears from our view quite regularly as it waxes and wanes with its typical lunar cycle. An eclipse has an immediacy to it. It's
fast
. From a nibble on the edge to being gulped down, and then the moon goes dark and tinged with red for a little while, before it repeats the process and exits our shadow.
2:49am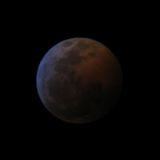 : : : 3:22am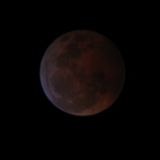 There are quite a few time lapse videos circulating on the internet for this eclipse. There's one that I like
here
. It's a little jumpy but I like that it shows the entire eclipse, and not just the progression to greatest eclipse.
The schedule for the eclipse: December 21st, 2010
12:39am penumbral starts
1:32 umbral starts
2:40 total starts
3:16am point of greatest eclipse
3:53 total ends
5:01 umbral ends
6:04am penumbral ends.