It's November! I'm still not entirely sure where all the time goes, but we're due for another giveaway here on my wee blog and this month I have some fun handmade jewelry to kick us off.
I'm giving away this necklace from
Lady Sisyphus' Free Time
. Lady Sisyphus brings together all sorts of beads and charms into some really delightful pieces, and she crochets too.
*softly chants 'one of us! one of us!*

This necklace is a generous 38in long and will come with a set of coffee bean stitch markers....
... and one of these sets of earrings.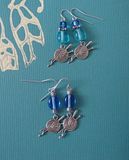 So I did notice that today is November 2nd, but this time I'm starting a day late deliberately. I don't think anyone in the US can be in ignorance that today is election day. I don't want to get into the politics of who and what to vote for or against. I just hope that everyone who can does.
So, this time, to enter into this drawing, comment that you voted. If you're a US citizen, have you voted in this mid-term election? If yes? Comment! If you're not from the US, did you vote in the most recent government election? If yes, feel free to comment as well. I'll take comments through Friday and then announce the winner on Saturday. And if green and blue isn't your style, check out
the Rav group
to see what I'm offering there.
That's it, nothing more complicated than that and making sure that there's a way for me to reach you if you win. Now, for me, I have to go to bed so I can get up bright and early so I can exercise my franchise and then run some errands. There's lots to do and I have another festival to do in less than 2 weeks!
Oh, and to note a little milestone. My shop has reached 600 listings sold. :)