So my brain is full of sentimentality and a slight buzzing noise. It's the combination of a new cd on repeat and having caught some bug or another that's making the rounds of the household. But at least I was productive earlier in the week, right? I need to get the latest batch of Arctic Hare photographed and up in the shop this weekend, and I'm planning to visit the
Princeton YWCA Crafters Marketplace
tomorrow to see if I should apply for next year. I have a friend who does it every year and says it's great.
Meanwhile, I've been knitting more.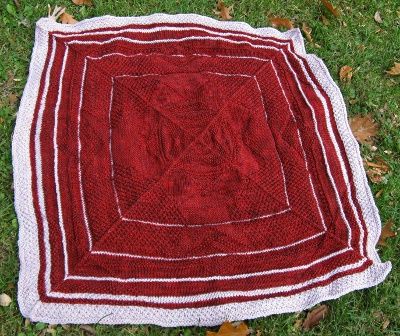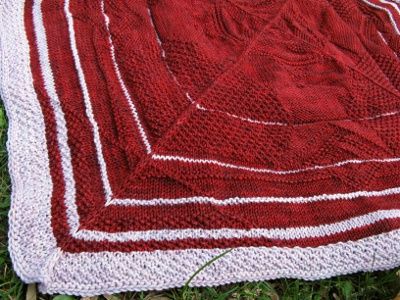 I finished a baby blanket today, although it still needs a wash and block. Blocking in this case will be throwing it into the dryer because it's a superwash. The colorways for this were dyed specifically for this project and are Wine Jelly (red burgundy) and Sweet Tooth (blue pink), and it's in March Hare, my worsted weight superwash merino base. Would you believe that that shade of burgundy took 13 steps? I don't think anyone will ever realize just by looking at it how complicated it is to get something that looks so much like a semi-solid but isn't.
This is one of my typical "organic design" blankets in that there's no pattern. I just start with 8st in the middle and change up the knits and purls on whim. I decided to do Fibonacci stripes and I ran out of the burgundy one row short of finishing the sequence correctly. Still acceptable, I think, and not bad for not planning anything out ahead of time. 36.5in wide, it's got a slight bulging in the middle of the rows due to the increases creating a sort of slip stitch effect but it should block out. I lived dangerously on this blanket and didn't even alternate skeins of the main color to minimize differences. Luckily in the case of this colorway they're pretty consistent.
Oh, and I bought myself a present last week. I got myself a nostepinne/nostepinde. See, I have 2 ball winders, but I like rewinding small partial balls by hand, often while they're still attached to their project. While I can do it perfectly well without any special tools I decided I wanted something pleasant to hold that's pretty. So I browsed around Etsy and realized something. Nostepinnes can be, hm, naughty looking. I can't be the only one who sees it. (I'm not am I?) That led me by devious routes to asking someone who makes adult toys out of wood to make me a nostepinne. (What do you suppose has more demand? Going by the selection on Etsy, I'd say nostepinnes must sell better!)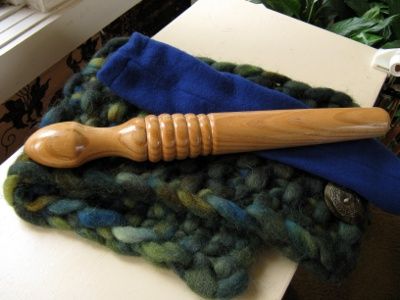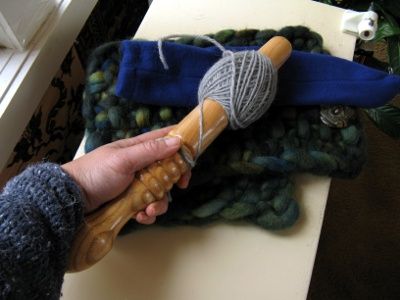 It's actually about 2in longer than I had requested. I like shorter and fatter nostepinnes than most of the ones being sold because I tend to wind too tightly when I use one, which is why I went custom. But it fits my hand perfectly the way it is, and has a nice girth. It has a nice balance when it's grasped around the rings. The narrow part of the handle snugs right along the curve of my hand. And given the length of the handle, the shaft has to match. It's got a very smooth finish, no chance of snagging yarn on this, and came with a storage pouch. So I'm quite pleased with the results.
Actually, this seller does some lovely work and has a perfectly innocent shop (not that the other shop is particularly shocking):
Goodys Folkart
. He's thinking of stocking more nostepinnes after the holiday rush on Santas. Right now the shop is mostly really pretty wooden barrettes.
The nostepinne was a nice "reward" to myself for another festival under my belt.
Montgomery Made by Hand
was last Saturday. This was very different for me. I've done the Garden State Sheep Breeders festival twice, and I did well my first year and
really
well this year. But MMbH was the first mixed craft fair I've ever done. They had everything, really, and as far as I can tell the only other yarn was the alpaca farm and no hand dyes. I didn't walk around, though, as I was by myself for most of it.
More ruminations about the fair after the jump.
This was the first year for MMbH, so it was impossible to anticipate what the response would be. The foot traffic was light to moderate and things were very quiet first thing. It's a short show, too, ending at 3pm but things did pick up in the afternoon. There was also an ongoing raffle. I was
really
bad about remembering to give out raffle tickets and had to chase after people several times. If I do this show again I think I'll give out more of the slips with purchases, too.
Once again I placed my yarn in exactly the wrong configuration for the changing light. I really have to get better about that. I also need to make a pipe and drape setup for next year's festival circuit. If I'd had one this year, I think I would have arranged my booth like I'd had it at GSSB and it would have worked better with the light. But since the booth behind me was fronted by their table, there was no separation, so I put my wall o'yarn up along the "back".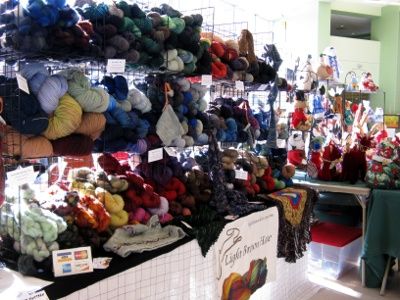 (New banner! I need to figure out a way to fix it to the top of my display instead of the table for busy shows.)
Also, the velcro ties work great but take
forever
to set up. I have to get faster at that. I'd like some more small tables, too. Another one or two of the 2x4 tables instead of the card table would be better for establishing a display area separate from the yarn, I think. The card table is always cramped when I have knits to sell and not just yarn.
In terms of receipts for the day, I made around 5x my booth fee so while it wasn't a stellar show it was a lot better than I'd feared. I more than broke even costs-wise and there was actual profit, and it was local which meant travel was easy. Considering the nightmare stories I hear from people who don't sell at all at school shows, this was a huge relief. Also, there was no way I was going to equal my first fiber festival, I knew that so I wasn't disappointed. I had a figure in my head for what would be a "good day" and while I didn't reach it, I also exceeded the "bad day" figure. I suppose in terms of receipts one could call it a "mediocre day". All in all, I sold 6sk of yarn, 5 bumps of fiber, and 2 sets of stitch markers. Propay once again came through as a really easy to use credit card processing service. This time I had wifi, so I processed the 2 cards I took during a quiet moment.
What tipped the day over into a qualified good day is that I had a good time. My neighbors were all really nice and friendly. The quality level of the vendors was high and the merchandise was varied, the organizers seemed to be responsive and open to constructive criticism (I didn't have any issues so I can't speak to this personally). The woman behind me gave me a lavender rice bag for giving her a shopping bag! I was floored, it was totally unnecessary but she insisted on the "thank you." The school had lots of people on hand to help fetch and carry, there was the wifi (which was a distraction more than anything) and the opportunity to order lunch ahead of time, and the light was good until it got too strong. I talked up Ravelry a
lot
which is always fun. And my uncle stopped by. :D
I did think it interesting that one of the most frequent question I got from everyone was where I was located. I always assume that people are asking for a brick and mortar shop which I don't have. But nope, they wanted to know if I was truly local.
I also had a really long talk with a fine arts photographer outside afterward when we were all packing up and loading. I need to remember MailChimp if she emails me, as I could not for the life of me remember what the service was called at the time.
So, I'm thinking that I might do this show again. It depends on if I find anything more suitable for that Saturday, but given that this fair is new it could build some real reputation and become a great thing in the next few years. And I like supporting the honors society of the school that my cousins attended. The question will be whether vendors will risk it again while it's still building reputation.