Hi everyone! I, uh, disappeared for a while, yes. I do that every winter and it's a no good, very bad sort of rut into which to fall that I really do need to stop. So this is me stopping! Or rather, starting something else. Also, I
will
be completing the December giveaway at some point soon. It's just hit a little behind the scenes speedbump, but it will come to fruition. And I will start up the giveaways again as soon as I get a bunch of other things done.
Also, in shop news. Once a year I have a sale, and I never quite know when it's going to be or how long it's going to be until right before it happens. This time around, it's right now. March 11-18th I'm offering up two different coupon codes so everyone has a choice for what works better.
Spring Forward Sale - March 11-18
code:
SpringFling11
for 11% off your entire order.
-or-
code:
SpringFlingShip
for free shipping to anywhere in the world.
Why start it today? Because today is the start of Daylight Savings Time, and because it's my birthday and I lost an hour to DST. Also, because I need a kick in the pants and this is as good a thing as any. I promise to have my shop fully restocked before the end of the week so the sale is worthwhile. It helps me to have a deadline and a reason. Which is to say, it's about mojo.
Yesterday in the Ravelry forums where I spend my days, especially with my NerdWars team, there was a lot of talk about losing one's mojo, that impetus and skill and enthusiasm that keeps us moving forward in whatever we've chosen to do. It was knitting mojo or crafting mojo in general but it made me think of my work mojo, which typically wanders off in October and doesn't come back again until May. I can't let my work mojo wander away that long; it's a very "no good" thing.
This winter my
knitting
mojo has been strong thanks to NerdWars. In fact, in response to the conversation yesterday, I knit
a Mojo
....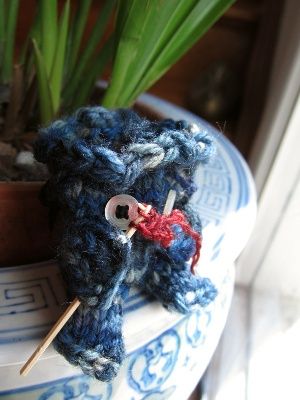 It's a little drawstring amulet bag that just happens to have arms and legs (because it tends to wander away, you know) and eyes, and in this case knitting needles and a WIP. I haven't decided what to put in it yet, but it will eventually house some symbolic little talismans for me as it keeps me company on my desk.
More after the jump....
So, my knitting mojo has been strong. Mojo the amulet bag is actually the 10th finished project I've made since January. But the shop, oy the shop has just gotten emptier and emptier even though I've dyed yarn since and have a lot of yarn waiting to list.
Photography is my biggest bugbear. The tortuous process of trying to get decent pictures of my stock when the light has changed so drastically from the summer has always given me heartburn. I have finally figured out how to adjust the white balance on my camera, though, so hopefully I can do more with the beautiful spring light we've been getting. In fact, I know I can. I was editing pictures last night and they were so much better than what I got last year at this same time that I was quietly and profoundly grateful.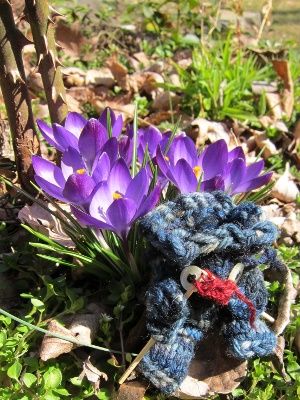 So it's spring, and I'm hoping that I can feed my Mojo and lure it into sticking around for a while, both my knitting mojo and my work mojo together, helping each other and me stay focused and ready to tackle everything that comes along. Because really, a Mojo is a simple creature that just needs not to be asked for more than it can do. Give it the tools and things it needs to function and a little bit of down time now and then to feel free, and it'll do whatever its asked.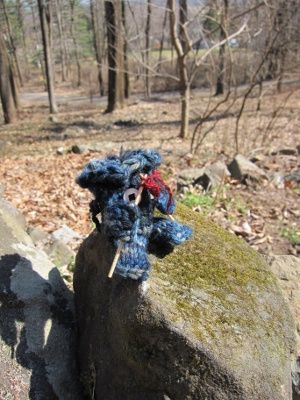 So here's my Mojo, and I'm going to take very good care of it. And hopefully it'll take very good care of me in return. Meanwhile, with this sale I'll have the funds to place a big new order of base yarns and get to the serious work of building my business.
So, hi everyone, I'm back from hibernation. I hope things have been good for you.