I introduced Widget stitch markers to the shop last night. I'm really happy with this design. Been pondering it for a couple weeks, and then spent days working on the actual final result. Since these are removable markers, they're suitable for both knitting and crocheting.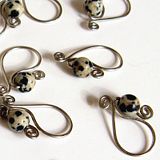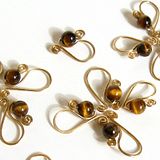 Dalmatian Jasper and non-tarnishing Nickel (large) and Tiger's Eye and non-tarnishing Brass (small); click on the image to go to the listing.
I love split stitch markers. I use them for all sorts of things other than marking my place, and they make great tiny stitch holders. I really like dual functionality too, so these fit over the needle and can serve as a regular stitch marker as well.
I prefer stitch markers that are solidly one piece, and I like them to feel sturdy. I decided to hammer the markers so they would keep their curved shape under the normal stress of use, instead of pulling open. They can still be bent open and even mangled; there's only so much stress wire can take. But they're a lot sturdier than if I hadn't hammered them, especially the heavier gauge wire for the medium and large sizes. They are beautifully strong.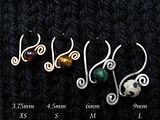 Widget size comparison on DK weight yarn, click for larger view.
The extra small and small are suitable for fine gauge work, I easily got them into knitting that was at a gauge of 8st/in. They work fine for larger gauge work as well. The medium and large won't really work for fine gauge work, however. The little spiral at the end of the loop is too big and it won't fit through the stitches. I've been debating making a *really* small Widget suitable for laceweight yarn worked up at tighter gauges, but there's a sort of diminishing return because split stitch markers have to be big enough to hold in one's fingers while attaching them to the work. I think the Extra Small is as small as I can go and have them still be usable.
I decided to stick with only brass and nickel because they won't tarnish and potentially stain the work. Not that any of us would leave a marker in a UFO indefinitely while said UFO languishes indefinitely. Noooo, never happen.
The Widgets are beautiful enough that I would wear them as jewelry. They can be slipped on a chain or cord and worn as pendants or attached to anything with a loop large enough to admit the end, really. And of course, they can be worn as pins on one's sweaters. Handy for use, and unlike safety pins, paper clips, or bright pink plastic markers, they look like they belong.